Copyright held by The John Cooke Fraud Report. Reprint rights are granted with attribution to The John Cooke Fraud Report with a link to this website.
By Diana McG
Having spent more than two decades as an SIU investigator and a claims adjuster, I say with certainty that the first communication with the insured or claimant in a suspect case is all important. "the devil is in the details" and those details are essential. Just like a telemarketer depends upon a script, a seasoned investigator also needs to have a printed outline of the questions that need answers as early in the process as possible. What follows is a checklist approach — extract that which best works for the individual case. The presentation is in boxed format; pick and choose those that apply and use them as guidelines to make each first interview the best that it can be.
[color-box color="gray"]THE OPENING: Please state your name and spell your last name. Please confirm that you are aware that this conversation is being recorded and affirm your permission for this call to be recorded. Obtain ID — D/L, SSN, address, etc. according to company policy. Stress importance that responses are answered truthfully in order to not jeopardize coverage. If you don't understand a question I have asked, then please ask me to restate it so we can make sure you understand my questions. Where do you live? Past residences? Note: If the individual is an immigrant who has been in the US less than seven years (legal or illegal), obtain the information/numbers from their original identifications papers from whatever country they come from.[/color-box]
[color-box color="gray"]PRE-ACCIDENT: Where were you coming from at the time of this accident? What time did you leave that location? Where were you going at the time of the accident? Were you carrying or holding any items while driving? Describe the vehicle you were in at the time of the accident. How many occupants were in your vehicle? Names? If not family, how did they come to be in the car – met them somewhere, picked them up at home, etc? Where was each sitting? Headrests up or down? Was there any damage on this vehicle prior to this accident? How would you describe the condition of this vehicle prior to this accident? Has this vehicle ever been in an accident before this date? Details.[/color-box]
[color-box color="gray"]ACCIDENT: Location? Directions? Scene description? Describe the accident? What was the point of impact of each car? Did the police arrive? How long? Which police Department? What did the police do immediately? Who was the first person to speak to you or help you? How fast was your vehicle going at time of impact? What was the speed limit? How fast was other car going? Can you describe the other car? Can you describe the driver of the other vehicle? Describe the damage to the vehicle you were in. Describe the damage to the other car: Were any vehicles towed? Which cars? Were any citations issued?[/color-box]
[color-box color="gray"]PRE ACCIDENT TREATMENT: When were you last seen by a physician prior to the accident? Physician's name? Primary care physician? If not, who is your primary care physician? Did you see him/her for this accident? If not, why not?PRE-ACCIDENT/INJURY HISTORY: Who is your family doctor? Have you seen your family doctor since the accident? If no, why not? Have you seen any other providers? Have you had any prior non-work injury accidents /auto accidents/work injury accidents? Describe those accidents. If you saw a doctor, what is his/her name? Where is his/her office located? Do you make an appointment or just sign in? Is there a sign-in sheet? Do you see the doctor at every visit? About how long does the Doctor spend with you each time?[/color-box]
[color-box color="gray"]POST ACCIDENT INJURY COMPLAINTS: Were you injured in the accident? Describe your injuries. What body parts? How did those injuries occur? When did you start feeling the pain? Describe the pain you felt. Did you tell the officer you were injured? Did any part of your body strike the interior of the car? Did you have a seatbelt on? Were your passengers wearing seatbelts? What were their injuries, if any? Did you go to the hospital following the accident? Was an ambulance called to the scene? If no ambulance, did you transport yourself or did someone else take you? Who? Did you go on the date of the accident or later? What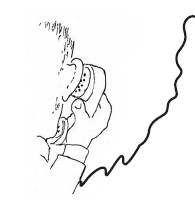 treatment did you receive at the hospital? Were you given any medications? Shots? Did they take xrays? Were you kept overnight or released after being examined? What were you told to do with regard to your injuries? Were you told to seek additional attention from your family doctor? Were you given discharge papers and instructions? Were you given a prescription for medication? Was it filled at the hospital or at another location? Where? What was the medication? What did the pills look like? Did you take them as directed? What did you do when you got home? How did you get home? Did you stop anywhere on the way home? Where? Why? What did you do the next day? Were there any tasks you were not able to perform after the accident? Dressing, eating, doing dishes, hygiene (brushing teeth, hair, etc)? Any problems sitting, sleeping, walking, bending, etc? Able to work? If there were problems, when did these resolve?[/color-box]
[color-box color="gray"]INJURY: How did you sustain your injury in this accident? What part of your body was injured? Neck – back – arms – legs – etc? At what point did you first feel the pain? Where on your body did the pain start? Did it move? If so, what was the timeframe? Describe your pain? Sharp, dull, shooting, stabbing, aching, deep or surface pain, burning, numbness, throbbing, tingling? Headaches? Resolved? When? Describe any restrictions due to pain. Did the Doctor put these restrictions in writing[/color-box]
[color-box color="gray"]EMPLOYMENT: Were you employed at the time of the accident? Where? Name of supervisor? Phone/contact info? Address? If self-employed, how many jobs do you normally have during this period of time? Can you provide documentation to substantiate your lost business? Prior employers? Type of jobs? Self-employed? If so, name of company? Does the work involve physical labor? Carrying, lifting (how much weight), sitting, standing, etc? Describe your duties at work? What is your occupation? How long have you done this type of work? How much do you make per hour? How many hours do you work per week? Full time/Part time? Hours per week normally, if part time? How are you paid? Cash, check, direct deposit? Have you been able to perform the duties of your job? Have you missed work? During what time frames have you been unable to work? When you returned to work, were you able to perform your duties? If limited duties, what were you able to do and not do? What other personal tasks have you been unable to perform? IE cutting grass, yard work, washing your vehicles, taking out the trash, other household duties you typically perform? Any personal care problems – sleeping, sitting, shaving, showering, brushing your teeth? Have you returned to work? Were you on the job at the time of the accident doing work/errand for your employer? Do you have Medical insurance? Name of carrier and number.[/color-box]
[color-box color="gray"]POST ACCIDENT TREATMENT: Were you treated at the hospital? What did the doctor at the hospital tell you? Did he recommend you see your primary care physician or to get physical therapy? Pain medications given/taken? Did they help? Side effects? Still taking medications? When did you decide to seek treatment at "XYZ clinic"? Did you talk with anyone about the accident before seeing a medical provider? Who? Have you treated there previously? How did you choose "XYZ Clinic"? Who referred you? How did you schedule your first appointment with the medical provider?[/color-box]
[color-box color="gray"]FIRST VISIT: Describe your first visit to the clinic? What were your required to do – complete forms? Describe the forms. Did you require help? Who helped you? Did you require an interpreter? Who? Were you required to undress? Did the doctor discuss with you how the accident happened? Or how severe the impact was? Or whether or not your body had struck anything during the accident? What were the symptoms you related to the doctor? What were your pain levels for each area hurt? Describe the pain for each area? Sharp, concentrated, deep aching, tingling, etc? Did your airbag deploy? Did the doctor or staff ask: if you were you wearing your seatbelt? Shoulder harness? Does your vehicle have head restraints? Position? Position of your head at time of impact? Left/Right/Straight/Down/Up/Unknown. Body position? Left/Right/Straight/Bent Forward/Unknown. Did you know you were about to be hit? If you were driving, was the car an automatic or a stick shift? Did you lose consciousness? Y/N How did you feel after the accident? (Dazed/Scared/Nervous) Could you move all parts of your body? Could you exit the car unassisted? Cuts? Bruises? Did you feel pain immediately? Y/N Head/Neck/UB/MB/Chest-ribs/ LB/ L-R UE/L-R LE/TMJ When & Where did you feel (more) symptoms? Hours/next day/days later? Same or different symptoms? Where was your pain? Head/Neck/UB/MB/ chest-ribs/LB/LR UE/L-R LE/TMJ If TMJ – did your head strike something in the car? Have you experienced problems with jaw locking or popping prior to the accident? If so, when? Is it on one side or both sides? If one side, which side? Do you grind your teeth? Who is your dentist? When had you last seen your own dentist before this incident? What did you rate your pain on your first visit at "XYZ Cliniic"? Neck ___ UB ___ MD ___ LB ___ HA___ UE___ LE___ Sternum___ TMJ___ What are those rates of pain today? Neck ___ UB ___ MD ___ LB ___ HA___ UE___ LE___ Sternum___ TMJ___ Did you feel your injuries were improving on the first day you sought treatment? Did you feel your injuries have improved since you sought treatment? Are you able to walk without guarding for pain (antalgic gait) Did you have pain/ numbness/tingling/weakness in your shoulder/arms/ legs? Y/N Where? L/R/BI Did you have pain/numbness/tingling/weakness in your legs/feet? Y/N Where? L/R/BI Before you saw the doctor following the accident, did you have: Dizziness? Y/N Jaw pain / dysfunction? (TMD) Y/N L/R/BI Memory Difficulties? Y/N Problems concentrating/focusing? Y/N Visual changes? Y/N blurriness/double Vision/ floaters/dark spots Tinnitus (ear noises/ sounds)? Y/N L/R/BI Headaches? Y/N Loss of balance? Y/N Bowel / bladder changes? Y/N Did you have any of these problems prior to the accident? Did the doctor suggest that you be seen by a medical doctor or that a CT or MRI should be taken because of your symptoms? Who examined you on the first visit? Describe the provider that first treated you? Describe the tests you were given on the first visit? Temperature taken? BP? Height/weight – Did they just ask or did you get on a scale? Active range of motion? Were you asked to turn your head from left to right fully? To lean your head forward and back fully? To lean your head to the right and to the left? To turn at the waist from right to left fully? To lean forward and backward fully? To touch your toes? Passive – did the doctor move your head for you? Did the doctor do each test once on that first visit? Did he do any of them multiple times? Which ones?[/color-box]
[color-box color="gray"]ADDITIONAL PROVIDERS: Did this doctor provide all of your treatment or did others also treat you? Were they chiropractors or other staff? If anyone other that the chiropractor treated you, who were they and what type of treatment did they give you? How long did it take? Did more than one chiropractor treat you? If so, who were they? How many different ones? Do you know their names? Description: sex, height, build, facial hair etc…[/color-box]
[color-box color="gray"]ADDITIONAL VISITS: Did you check in with the nurse or sign a sign-in sheet? How many times did you see Dr. "XYZ?" Can you describe him for me? Were you standing up or sitting down when he examined you? How much time, on average, did he spend in the room with you? Was there anyone else in the room when he examined you? Who? Did he do the same exam each time or was it different each time? If the same, what did he do each time? If different, what was different? How much did he explain to you each time? Did you understand everything he said? How did you get to and from the doctor's office? Did the appointments interfere with your work schedule? Where did you park? Was parking free? Meters? A gate? Did you save the receipt? Did you take an elevator to his office or walk up the stairs?[/color-box]
[color-box color="gray"]APPOINTMENTS: Are you required to sign in when you arrive? If so, can you describe the sign-in form? If not, are you required to sign anything during the course of your office visit? If sign in – where there others listed on the form or was it a sign in sheet for you only? Did you sign in on more than one line? For yourself or others? Were you required to make appointments or does the clinic operate on a walk-in basis and you can come when you want? When were your appointments? Every day? How often were you told to come at your first visit? 5 days per week or less? Were you told this before, during, or after your exam? Did you miss any appointments? What time of day were/are your appointments? Morning, afternoon? What days of the week? Do you know what days of the week the clinic is open? Do you know if the clinic Is open on holidays? Did you ever receive a treatment on a Saturday or a holiday?[/color-box]
[color-box color="gray"]TREATMENT DESCRIPTION: Other than CMT, what other treatment was provided on each visit? How long did each treatment last? Did the treatment help? Were you provided the treatment by anyone other than the chiropractor? If so, who provided the treatment? Describe the treatment they gave you. What was the length of time for each treatment? Were any of the treatments "hands on"? Were the treatments the same for each visit? Were they done in the same order? Were you ever re-examined again after your initial exam by the chiropractor? When? Describe the treatment given to you by the chiropractor? If it was a different chiropractor than the one previously seen, describe your conversation with them prior to your treatment? Describe your conversations with the providers at each visit? Did he/she ask how you were feeling overall or were you asked one-by-one about each one of your previous complaints, if they were doing better? Did the chiropractor doctor RECORD this information in your file in front of you? If not, did they have your file with them? If not, was the file in the room or hanging on the door? Did you ever see the chiropractor write anything in your file? If so, when? If the conversation was not with the chiropractor, were you asked about your condition by anyone else before or after seeing the chiropractor and being treated? Name of staff members? What part of your body was treated? Did each chiropractor treat you in the same places as the prior one? Were any instruments used to provide your treatment? Can you describe them? Were you required to lie down or sit in order to receive the chiropractic manipulation? If lying down, what type of table? Were there any mechanisms in the table that provided some type of treatment? Heat, rollers, massage, etc.? Were you given any shots? How Many? Who gave them to you? In what part of our body?[/color-box]
[color-box color="gray"]MRI: When were you told you should have an MRI? Were you told why you needed to have an MRI? Do you know what an MRI is or does? Did you have the MRI on the same date you were told you were being referred for the MRI? How soon after you were told to get an MRI did you receive the MRI? Did you choose where to get the MRI or were you sent to a specific facility? Were you given any other options? If MRI was the same date, did you go immediately following your DC appointment? What time was your MRI? If on a different date, did you go before or after your DC appointment? What time were each? Were you given the information to make an appointment for the MRI? Or did someone from the clinic go with you to assist you in getting the MRI? Or who made the appointment for the MRI? Where is the MRI facility located? Who took you there? Or did you drive yourself? When you arrived at the MRI facility, were you required to complete any forms? If so, what type of forms? Did anyone assist you? Was there someone there able to speak to you in your language? Were you required to undress? What instructions were you given before the exam? Describe the MRI machine and the exam. Did you hear any sounds? Describe them? How long did the exam take? Were you told the findings following the exam? If so, by who? If not, when and who discussed the findings of the MRI with you?[/color-box]
[color-box color="gray"]WHEN OTHER FAMILY MEMBERS ARE TREATED: Did your spouse and children treat on the same dates as you? Were there any dates they treated and you did not? If so, who took them to the appointments? Were you treated in different rooms at the same time or were first one and then the other treated? Was either parent present during the treatment of the minor children? If so, which parent? If not, why not? Were you told you did not need to or could not be present?[/color-box]
[color-box color="gray"]TREATMENT PLAN/DISCUSSION: After the testing and/or x-rays did the doctor discuss what your injuries were with you and how he/she planned to treat your injuries? Did the doctor explain how long you would need to treat? If so, how long? How often were you told you needed to come in for treatment? Days per week? For how many weeks? Were you told what your injuries were? What were they? Were you given a treatment plan? Did the doctor explain the treatment plan? What was the treatment plan? Were you given an appointment schedule? If not, when/how did you make your appointments? What days of the week did you treat? Did you ever treat on a weekend? If so, how many times? Do you know the names of the providers or staff that provided you treatment? Can you describe any of them? Did you follow the treatment plan? How did your treatment plan affect your pain? Increase or decrease?[/color-box]
[color-box color="gray"]QUESTIONS FOR THE PARENT SEEING TREATMENT OF CHILD: Name child – describe exam, treatment given, who treated. Were your children x-rayed? Which child/children? Were you told why they needed x-rays? Were the findings of the x-rays discussed with you? When? Immediately following or on a later visit? How much later? Which DC? What were you told? Were you shown the x-rays? Did the child miss school? If so, how much? What school do they attend? If you were at home together during the day, what did you do while off work and off school? Did you stay at home or go anywhere? If you went somewhere, where did you go? Were you required to hire someone to stay with the child? If so, who? If a family member, who? Discussion of MRI with chiropractor – what reason was given for seeking MRI? Repeat questions regarding setting up appointment. Did anyone go with you? Whom? Who translated? Who helped fill out any paperwork?[/color-box]
[color-box color="gray"]AT HOME INSTRUCTIONS: Were you given any instructions for treating at home – exercises? Ice pack? Heating pad? Etc.? Were you given any products for home use? If so, what were they? Work release? Hour limitations? Work restrictions regarding sitting, standing, lifting?[/color-box]
[color-box color="gray"]SURGERY REFERRALS: Who recommended the referral? Who made the appointment? Where was the appointment? What were you told regarding why you needed the referral? Describe your visit with the surgeon? What exams were given? Height, weight, eyes, heart, lungs, BP, history recorded, ROM, etc? What was discussed? Did the surgeon discuss the results of the MRI? What was said? How much time did you spend with the surgeon Did he/she refer you to someone else? What recommendations did the provider make? What explanation were you given for these recommendations? If recommended for surgery, are you going to get the surgery?[/color-box]
[color-box color="gray"]ATTORNEY CONNECTION: How did you choose your attorney? Did anyone at the clinic refer you? If so, who? Were you given a list of attorneys to choose from? If so, who was on the list? Who all have you spoken or met with at your attorney's office? Have you ever been involved in a lawsuit? What type?[/color-box]
Diana McG, SIU Investigator, specializes in identifying bogus medical/chiro offices and billing schemes. She is also on the board of directors of John Cooke and FightFraud America.com.