Copyright held by The John Cooke Fraud Report. Reprint rights are granted with attribution to The John Cooke Fraud Report with a link to this website.
WHEN INSURERS CONSPIRE TO DEFRAUD
By Barry Zalma
Many individuals were involved in a farreaching and long-lasting scheme to deceive persons about the ownership and worth of assets identified on financial statements of insurance and reinsurance companies and related businesses. Richard J. Solomon created certificates of deposit from a Panamanian Credit Bureau backed by false and fraudulent records of assets. He rented the CDs to others who then used them as evidence of assets for insurers and reinsurers. These were eventually used to defraud individuals and businesses who purchased insurance and reinsurance in good faith when Solomon knew the CDs could never be used to pay claims.
After an investigation by the Internal Revenue Service of the United States and prosecution by the Department of Justice, a jury convicted Richard Solomon – along with several coconspirators – of one count of conspiracy to commit (i) mail fraud, in violation of 18 U.S.C. § 1341, (ii) wire fraud, in violation of 18 U.S.C. § 1343, and (iii) insurance fraud, in violation of 18 U.S.C. § 1033(c)(1), all of which violated 18 U.S.C. § 371. Solomon was also convicted of one count of conspiracy to commit money-laundering, in violation of 18 U.S.C. § 1956(h). In United States of America v. Richard Joseph Solomon, No. 12-10634 (11th Cir. 03/21/2013), Solomon appealed the convictions in an attempt to avoid serving time in federal prison.
Factual Background
In the early 1990s, Solomon joined Cooperativa de Ahorro y Credito Gatun ("Gatun"), a Panamanian cooperative acting as a credit union. In his position at Gatun, Solomon caused the cooperative to issue certificates of deposit purportedly collateralized by billions of dollars of gold dore–a processed, crude bar of low- grade rock that contains at least 50 percent gold and can be further refined to make gold bullion. Even though the gold dore never existed, Solomon delivered a master certificate to Panamanian authorities, claiming that Gatun was assigned 135,000 metric tons of gold dore valued at $1,080,000,000.
In 1995, Solomon, through his companies Malik International, Inc. and Malik International, S.A., agreed to rent certificates of deposit backed by Gatun's false collateral to Michael Ernest Zapetis, Sr. ("Zapetis") and his wife, Karen Carazo Zapetis ("Carazo"), while Solomon maintained ownership and control of the Gatun CDs. Zapetis and Carazo had previously created West Indian companies, including American Indemnity Company, Ltd ("American Indemnity"), Star Insurance Company ("Star Insurance"), and Global Insurance Company ("Global Insurance"). Zapetis and Carazo also formed Costa Rican subsidiary companies, including Capitales Uno de America ("Cap Uno"), to hold and claim the rented assets, and formed Consorcio de Segurus Polaris, S.A. ("Consorcio"), a Costa Rican company which provided administrative support for the "insurance" companies.
While Solomon's role in the conspiracy was often just leasing uncapitalized Gatun CDs to Zapetis's and Carazo's companies, Solomon was more active in other transactions. In late 1995, Solomon, Zapetis and Carazo agreed to have American Indemnity become a subsidiary of International Standards Group ("ISG") – with Solomon owning fifty percent of ISG stock – and to have American Indemnity sell reinsurance through a London broker. Solomon, through his Malik companies, provided Cap Uno with a Gatun CD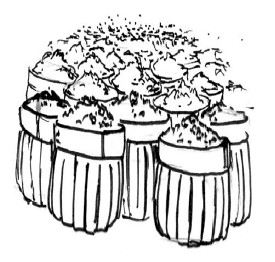 purportedly worth $40 million, so American Indemnity could show the assets on its balance sheet. Solomon and Zapetis then secured an audited financial statement for American Indemnity by having Gatun "verify" that the Gatun CDs issued to Cap Uno were backed by assets.
Solomon also had an active role in allowing Star Insurance to front as a reinsurer. World Vision Entertainment, Inc. ("World Vision") purchased Global Insurance from Zapetis and Carazo, and purchased Capitales Nueve de America ("Cap Nueve") from Consorcio. Jaillet knew that Global Insurance only rented the Gatun CDs and could not use them to pay claims, but it used the CDs to create the illusion that Global Insurance had assets that backed World Vision's obligations on its loans. Zapetis, Carazo, and Jaillet also agreed that Star Insurance – still owned by Zapetis and Carazo – would reinsure Global Insurance's liabilities in exchange for a portion of what investors paid for Global Insurance's "protection."
In an effort to expand Star Insurance's ability to sell reinsurance, in December 1998, Star Insurance acquired an additional $200 million in Gatun CDs from Solomon. Solomon personally delivered the CDs to Zapetis and signed the asset investment agreements. Solomon, Zapetis, and Carazo discussed how Solomon's assets would not be at risk from Star Insurance's reinsurance commitments and that Solomon would still be paid rent on the CDs. When World Vision defaulted on its notes, its victims were referred to Gatun, and Gatun denied that Star Insurance had ever guaranteed World Vision's notes.
In 1996, the Internal Revenue Service began its investigation that led to the charges against Solomon. The investigators obtained Costa Rican bank records from 1998 and 1999 which demonstrated payments made from Consorcio to Solomon (or the Malik companies under Solomon's control). Solomon agreed to be interviewed by law enforcement during the investigation and later again after his arrest. He testified in his own defense at trial.
Discussion
Sufficient evidence existed to establish Solomon's intent to defraud, knowledge of the scheme, and a meeting of the minds with the coconspirators in Count I of the indictment.
To prove a conspiracy to commit wire fraud, the government need not demonstrate an agreement specifically to use the interstate wires to further the scheme to defraud; it is enough to prove that the defendant knowingly and voluntarily agreed to participate in a scheme to defraud and that the use of the interstate wires in furtherance of the scheme was reasonably foreseeable.
The existence and participation in a conspiracy may be proved by circumstantial evidence and inferred from concert of action. Accordingly, the government can establish a defendant's intent to defraud, knowledge of the scheme, and a meeting of the minds with circumstantial evidence, and a jury can infer the elements from the defendant's conduct. The Government need not produce direct proof of scienter in a fraud case, however; circumstantial evidence of criminal intent can suffice. The government has clearly presented sufficient evidence to sustain Solomon's conviction as to Count I. The evidence at trial established that Solomon provided false information to Panamanian authorities regarding the value of the Gatun master certificate. He also rented multiple Gatun CDs to Zapetis and Carazo, personally profiting by the receipt of rent payments from Consorcio. Moreover, Solomon owned 50% of ISG, which in turn owned American Indemnity, which sold reinsurance despite being undercapitalized and having no intent to pay on claims. Finally, Solomon admitted that he knew Zapetis and Carazo would use the Gatun CDs to issue financial guarantees and sell reinsurance, and he contributed to their effort by providing additional Gatun CDs to Star Insurance for $200 million.
In the instant case, the evidence established that the Gatun CDs issued by Solomon were the basis for falsifying the insurance companies' financial statements which was the crux of the criminal activity in the indictment.
Conclusion
Accordingly, Solomon's convictions were AFFIRMED.
ZALMA OPINION
Insurance is a business of utmost good faith. When a person involved with insurance fails to act in good faith and, instead, uses guile, misrepresentation and fraud to make an underfunded insurer or reinsurer look like it had sufficient funds to pay claims and defraud those who purchased insurance and reinsurance from them in good faith, that person commits fraud. Solomon profited for more than ten years from the scheme of renting false and fraudulent Certificates of Deposit to insurers and reinsurers who used them to deceive the public.
This case is one of absolute lack of good faith and fair dealing. It is insurance as a criminal activity rather than a contract that promises to provide indemnity.
The IRS and the DOJ should be proud of obtaining the convictions and should be ashamed that Solomon and his co-conspirators were allowed to carry on their fraud for so long without being bothered by authorities.
——–
Barry Zalma, Esq., CFE, a prolific writer, trainer and speaker, has practiced in California for more than 40 years as an insurance
 coverage and claims handling lawyer. He also serves as an insurance consultant and expert witness specializing in insurance coverage, insurance claims handling, insurance bad faith and insurance fraud. http://www.zalma.com
.