Copyright held by The John Cooke Fraud Report. Reprint rights are granted with attribution to The John Cooke Fraud Report with a link to this website.
CERTIFIED DOCUMENT EXAMINERS AND FRAUD
Graphology is a combination of the Greek word graphein, which means "to write," and the suffix "ology, " a branch of scientific study. There are some who consider Graphology to be a voodoo science. In truth, it's a very old and generally respected science, having been developed by the Chinese 3,000 years ago. It was used by the Romans and other civilizations and cultures. T he more modern approach was devised by the French nearly 150 years ago. Even today, the science is being refined and expanded. In the same way that an investigator can obtain valuable information from observing a person's demonstrated body language or speech patterns, so can he learn about that same person by examining his writing.
In the world of forensic analysis, graphology fits into the area of questioned documents. Not just anyone can be qualified as a Questioned Document Examiner. It requires accreditation through one or more of the various recognized organizations: e.g. The American Society of Questioned Document Examiners (ASQDE), the Canadian Society of Forensic Science (CSFS), the Southeastern Association of Forensic Document Examiners (SAFDE), and the Southwestern Association of Forensic Document Examiners (SWAFDE). Other organizations include the American Academy of Forensic Sciences (AAFS), the International Association for Identification (IAI) and/or the Mid-Atlantic Association of Forensic Sciences (MAAFS). In other words, not just any Tom, Dick or Harry can make the cut as an expert witness.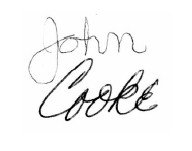 QDE's primarily analyze documents to see if they have been altered, forged or if there has been, in part, a change of machine (e.g. typewriters) or individual authorship.
Graphology is not just about how a writer crosses his T's or if the dots on his I's are just dots or circles; it is a combination of about 300 different handwriting features and a measure of the interactions between those features. . The production of writing comes from the sub-conscious — simply stated, the brain thinks of the words or symbols it wants to use and it sends a message to the hand. The hand responds to more than just the actual message; it incorporates the embodiment of the writer's emotions when writing and reflects the present mood and personality of the writer.
We tend to think that handwriting analysis is most useful in verifying signatures; however, its investigative applications are more far-reaching than that. Since individual handwriting is similar to a fingerprint or DNA in its uniqueness, no two people write identically — although one statistician did compute the probability as one chance in 68 trillion. With the population of the entire world numbering in the range of seven billion, we're pretty safe.
The science of graphology is not limited by geography, date, or written language. English, Chinese, Russian, Arabic, Sanskirt –all of these –can be analyzed in similar fashion. Verifying a 500-yearold (well-preserved) signature is entirely possible; the primary variances would be writing style at the time, writing instruments at the time, and things of that nature.
As children, no matter where we were in the world, we learned writing from a copybook. Copybooks are used throughout the world and, in some form, throughout the centuries. For example, take a look at the Declaration of Independence and visually compare the design of a signature then to how a signature looks today. Style characteristics are taught in school when we initially learn to write. But our later writing has taken on individual characteristics that tend to differentiate us from one another. So while two or more people may share a couple of individual characteristics, the chance of those people sharing 20 or 30 individual characteristics is so remote that it is considered impossible by most handwriting analysts.
It takes extensive training for a handwriting analyst to learn to distinguish between style characteristics and individual characteristics. For the most part, it is the latter that tell the story of actual authorship. That's where the differences stand out and forgeries are usually determined by what is different, not by what is the same. In cases where differences do not rule out a match, it's possible to make a call on similarities. Knowing the difference is what makes a QDE a QDE. Like almost everything else in the world of evidence, graphology is subjective in nature. While the samples may be objective, the interpretation is the opinion of the expert.
Individual writing is a complicated recipe. The pumpkin pie that you bake may be very similar to the pumpkin pie your mother made; but a forensic scientist — think Abbie of NCIS — could do her magic and tell the difference. It might come down to the allspice and the percentages of cinnamon and nutmeg. Could Abbie make it stand up in court? Probably so.
What follows is a first grade explanation of some of the nuances of writing that are examined. Note that these are just generalities and the analyst is usually looking for differences.
Connectedness
Consistency
Fancy "artsy" letters vs. no care take
Fast writers vs. slow writers
Letter shapes: rounded, jumpy, angled, threaded endings
Lead-in and ending strokes
Line slope
Line thickness
Pressure of the writing: heavy or light?
Rhythm
Size of writing
Slant: left, straight, right — and to what degree?
Spacing between lines, between letters and between words
Staying on the line (if there is a line on the document).
Zones: upper, middle and lower
Most investigators are very familiar with statement analysis. Someone trained in this tool will look for dropped or changing pronouns, tense changes, structural changes, distancing, stall words, repeated words, change of tone, volume or pace, etc. An interrogator trained in observation of the person being questioned is looking for eye movement (to the right or to the left; up down, straight ahead, unmoving vs. moving), body movement changes (tapping foot, scratching head, etc.). A handwriting analyst does primarily the same things, except instead of concentrating on visual or auditory clues, s/he concentrates on the artistry of word design, flow and placement. Investigators look for signs of honesty and signs of dishonesty. Writing can reveal a multitude of sins. But these sins are like red flags; do you see one or two? Or do you see many that fit into the following categories and almost none that do not? Consider the following a red flag list — the totaling and the ratios of pass/fail are up to you.
Backward strokes
Baselines: erratic, rigid or ignored
Clarity: start and end of words is clear; threaded strokes or letters inside
Complicated coiling. (Ah, suggests trickiness and cunning!!!)
Coverstrokes upward or downward
Difference between script and signature
Dots in places they should not be
Excessive corrections or retouching
Excessively slanted writing
Forgets to cross t's or dot i's
Fragmented and/or broken letters
High upper zone, low lower zone, not much in the middle
Indistinct or illegible writing
Just too fancy (distractive)
Leaving obvious pieces out
Leaving (obvious) something out and putting something non-fitting in
Leaving (obvious) something out and filling in with non-related chit-chat
Lengthy left strokes at ends of words
Letter shapes: too complex or too simple
Letters and connections, cramped
Loopy ovals
Lower zones long, full, angular
Misspells where small letters are left out
Pressure changes
Pressure: uneven, muddy or light
Signature is flamboyant
Slurring letters or filling them in
Spaces: wide between words and lines
Spacing: cramped and tangled
Strong starting strokes
Tall upper with short lower zone
Too slow, too neat or too artificial
Two different styles of writing
Uneven letter sizes
Upper loops over inflated
And just for a slam-bam ending, let's talk about pathological liars:  tall capitals, high t-bars, tall upper zone, excessively looped upper zone, erratic or flat middle zone, tbars above the stem and not touching, reduced pressure on right or upward strokes, slow writing,
excessive roundness in letters, disturbed rhythm. Remember, just a few do not mean a whole lot as many habits are picked up from others. If half of the list is checked off, you'd best take a very close look or call in an expert.