Copyright held by The John Cooke Fraud Report. Reprint rights are granted with attribution to The John Cooke Fraud Report with a link to this website.
By L. Burke Files
If you're part of the John Cooke reading audience, chances are that you work for an insurance carrier, a law enforcement agency, a private investigation firm, a legal firm, or a regulatory agency or at some other level of anti fraud support. If you are more than a solo act, this article is for you. If you're in a position of authority, consider what we are about to say. If you're a smaller fish, send a copy of this article upstream.
All businesses involve challenges and difficulties involved with group behavior. We too often hear stories of the occasional bad apples who shed a negative light on the collective good efforts of the basket as a whole. Too many of those stories involve rogue agents, claims adjusters, bookkeepers, or others who have too little in the way of checks and balances in their day-to-day duties. Without adequate oversight — and sometimes even with adequate oversight — there are thousands of ways to steal from a business. Crooks do it all the time from the outside; and sometimes the crooks turn out to be employees or co-workers on the inside. Without encouraging a tattletale atmosphere, what constitutes a fair and responsible system to deal with off-the-grid behaviors?
In this vein, I'm about to share a story about an interesting approach to the remote running of a business enterprise. It includes some interesting "hooks."
In this particular situation, all employees had a stake in the profitability and success of the business. While the profit sharing was not unusually large, it added between seven percent and twelve percent to the employees' payroll checks when the profit bonus was paid. The bonus was calculated every calendar quarter and then paid six months later. It was also normed, so that one could not shove all of the losses into one particular calendar quarter and thereby receive a bonus for the other three calendar quarters by, in essence, rigging the deck. (Keeping employees honest is sometimes best based on the example set by the employer.) As for the 'hook" mentioned earlier, the dwell time in the paying of the bonus was/is truly an ingenious feature of the bonus program.
Here's how it worked.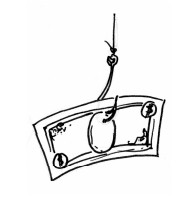 All employees were encouraged to report to the owner/manager everything they saw in the course of their work; they could send an email, write a letter or a fax, or even leave a voice mail on a special telephone number. Vendors and customers were also encouraged to do the same. They could submit any information good or bad — anything such as better operating ideas, processes or thoughts on how to improve the business, customer service, or issues of safety or misbehavior – even theft or fraud. Information could be transferred in an acknowledged fashion or an anonymous fashion. The owner/manager quickly learned that employees do not like to see any form of thievery or waste that cut into their pocket via reduced bonuses and reduced profit share. The plan provided them some control — always a good motivator. The other thing that the plan provided was, essentially, a front line of defense; after all, who better knows the normal working routine of a specific job description than the person sitting at the next desk over and performing the same job. Familiarity with what is SOP makes it easier to instantly see when something just does not seem right.
The dwell time was for the owner/manager. If any of the employees was fired for theft or other very serious reasons – and they had to be serious reasons – the bonus or profit share was not to be paid. Serious transgression voided the bonus paid in arrears. The same provision applied for all, encouraging a team mentality. If a manager got fired for serious reasons or left and went to work for a competitor in violation of an agreement not to compete; they stood to lose their bonuses via a claw back.
If they left for less than serious or for reasons that contribute to a competitive threat – such as resignation or termination that were associated with minor (but annoying) stuff – then the bonus was paid – not at the time of leaving but in accordance with the timetable as described herein.
The company being discussed here has been running this program as described over the past five years. It's done well and has very few labor problems, such as turnover. More importantly, with the fair compensation resulting from the bonus program, nobody steals from the cookie jar. In one "robust" example of an employee issue that was reported, the result was the firing of an employee for being drunk on the job. The decision makers debated about whether this was a serious enough offense to claw back the bonus that would be payable to this employee – they choose to pay the bonus anyway. The terminated employee was shocked and told several of his friends that still worked at the company that he was going to get paid his last two bonus checks. That one incident did more to build a lasting positive morale for the troops than anything else. The idea (or fear) that one would be fired solely to save bonus money was removed from their heads. Fair is as fair does.
This company had fewer than 100 employees, and the implementation of such a program was not difficult. It was manageable on a company- wide basis. Larger companies would have to design a department or unit system.
The beauty of this bonus plan is also its simplicity – all of the incentives are aligned, all are shared, and the owners have been very authentic in paying out or not paying out – bonuses to ex-employees.
We have recommended implementation of this type of approach to a number of clients for their business operations. In general those who implement their version of the approach have seen dramatic reductions in theft and error and real improvements in employee innovation, morale and general profitability.
________________
Burke Files is a private investigator, the president of Financial Examinations Evaluations, Inc, a specialist in financial investigations throughout the world. He is also the author of many financial fraud books. Find Burke at lbf@feeinc.com