Copyright held by The John Cooke Fraud Report. Reprint rights are granted with attribution to The John Cooke Fraud Report with a link to this website.
By Leslie Kim, CFE
What's happening north of the border in the fraud world?
"We're experiencing the loss of many high end vehicles," said Stan Capra of State Farm in Toronto. "They're being shipped overseas,
usually ending up in eastern block countries."
Sound familiar?
"We're seeing many highly questionable overseas medical and hospitalization claims," says the head of SIU for a large Canadian travel accident insurer.
Sound familiar?
"Canadians are doing more and more business abroad and running into situations they are unfamiliar with. This creates easier victimization," says Norman Inkster of KPMG.
Sound familiar?
Fraud knows no boundaries. Comedians will claim there are only twenty jokes in the world and every new joke we hear is merely a variation of one of the 20 original jokes. Similarly, there are only a limited number of insurance and financial fraud scams … it is the seemingly never-
ending variations that we must learn to identify and deal with.
Fraud fighting efforts vary from jurisdiction to jurisdiction. Just as the process in Arkansas is different from the process in Idaho, so is the process in Saskatchewan different from that in Nova Scotia. Tools available on a national Canadian level are also significantly different than the tools we rely upon in the US.
When working vehicle fraud cases, Canadian investigators rely upon the Insurance Crime Prevention Bureau (ICPB). The ICPB is the rough equivalent of the NICB in the US except that the
ICPB is a cooperative effort between the US and Canada. Members include law enforcement agencies, automobile rental companies, leasing companies, etc., and it is providing a valuable tool in the fight against vehicular insurance fraud.
Canadian auto theft statistics mirror those seen in the US, although the numbers are expectedly much lower. Theft numbers spiraled upwards, nearly unchecked, for many years. The first year of decline was 1997. When coupled with 1998 results, auto theft decreased by 7 percent. In 1998, 165,799 vehicles were stolen throughout Canada (Editor's, note. heck, we can beat THAT right here in the Los Angeles area alone!). Most alarming to authorities, however, is the recovery rate. In the mid '60s a stolen car would be recovered in 98 percent of the cases — but now that number is down to 72 percent. So where do 127 cars a day go? Nothing new here, either; to chop shops or into containers for shipment overseas. Over the past five years, the Canadian economy has been hit by the loss of more than 200,000 cars, forcing the authorities and politicians to take notice.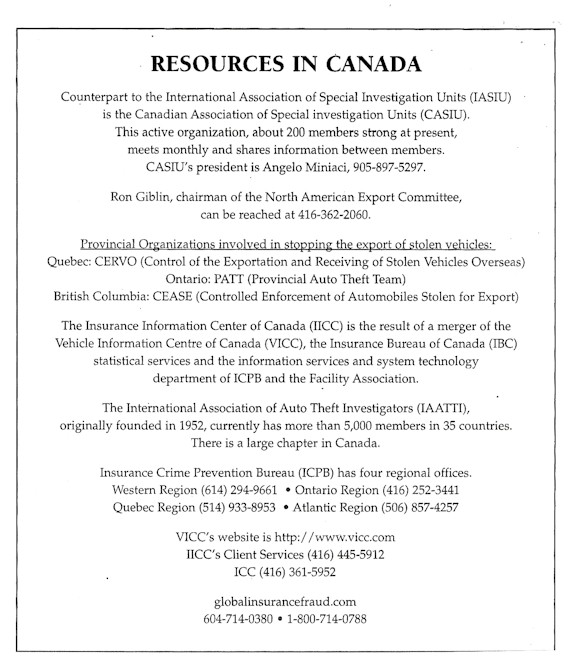 Bodily injury liability claims, while similar to their counterparts in the US, take on a slightly different Canadian flavor. When making a BI claim on a staged accident, the claimant is faced with a liability threshold. Because of this fact, and because lost wages figure into the computation of damages, Canadian adjusters find themselves dealing with many fraudulent letters of employment. "This letter is to inform you that Edward Montreal employed at Ajax Car Wash and earns $600 a week. He has not been able to work since the auto accident."
What do investigators look for? One of the common red flags, says Capra, is when the claimant goes to a doctor he has never been to before. Another is the usual medical buildup for objective injuries, including referrals to "specialists."
In order for a Canadian policy to pay anything beyond actual general damages, the injury must he significant enough to meet the threshold. And since most whiplash/sprain/strain injuries cannot meet the threshold, loss of income becomes a factor. Since many of the people who are recruited to participate in these fake accidents are unemployed, they misrepresent their employment status. It is also common to see claims submitted for someone to come into the house and vacuum and do other household work because the "injury" prevents the claimant from doing the work him(her)self.
For those claimants who actually do have jobs, the accident provides an extended paid vacation from work. Insurers often hire surveillance to disprove such claims. Those carriers who are willing to put the money into investigation get results. Sadly, some companies prefer to simply write checks.
"Most of the bogus claims are orchestrated by paralegals," says Capra. "We believe they are instrumental in dictating how the claims will be run and settled." Unlike the US, Canada does not have the option of filing RICO actions because there is no legal provision
According to Bingo Anderson of Upchuck Insurance Company (Editor's note: Okay, I confess, the REAL Bingo asked me to not use his name or his company's name so I have renamed them both), Canadian travel insurance companies are dealing with the usual load of fraudulent claims. "We write trip cancellation coverage and that is sometimes abused. We also are getting a steady stream of medical and death claims from third world destinations. And amazingly," he added, "there is no end to baggage claims for Armani suits (mnd Louis Vuitton luggage." For a while, certain car rental companies were offering a lost baggage dIlowance of $16,000, so crooks were making sure prose Armani suits were lost under the higher paying policies. "Crooks go where the money is," said Anderson, "so when those companies ceased offering the high-limit coverage, most of the large claims mysteriously disappeared."
Nancy Walker of the Canadian Coalition Against Insuurance Fraud says that there is currently a strategic shift in direction at the Coalition. "We are moving away from general1 insurance claims and focusing instead on personal insurance fraud. We're building upon past successes, with our ultimate aim being to reduce the cost of BI fraud through increased public awareness and a better understanding of the fraud problem. If we can gain a better understanding of the problem, we can hopefully change the business practices of the Canadian health care providers. Fraud drains vital resources for all Canadians. Insurance fraud is not a victimless crime … every one of us pays for it."
The difference between the Canadian Coalition and the US CAIF is that
the Americans do more legislative lobbying than their neighbors to the north. "Our basic premise is to build stake holders and to garner cooperation between insurance-related industries," says Walker. "With the new shift in directions we'll try to build relationships with various health care practitioners. In Canada we have systems where there are governing bodies for health care practices. These colleges of physicians govern doctors by Province, so it unfortunately makes our task more difficult."
"What we are trying to do is to put together a tapestry," Walker says. "We are looking at what others have done -to combat personal injury fraud and using that information to build our own program." According to Walker, not much had been done previously to combat that specific kind of insurance fraud. "What has happened in Canada," she says, "is that costs are rising from PI claims at an astounding rate, yet serious collisions have decreased. We now have road safety initiatives and our highways are built better, but the claims are going up."
Personal injury claims have increased dramatically in Canada. Walker report, "The average cost of compensation from these claims is up 47 percent in the same time frame as all of our improvements. Some of this can be attributed to increased medical costs, but the numbers are still way out of sync. We know it's the fraud."
The Coalition exists for the purpose of increasing public awareness. The available numbers suggest those who are involved in accidents are now more likely to claim for injuries than they were in the past. In the past, it was said that 10 to 15 percent of all Canadian vehicle claims were believed to be fraudulent. The Coalition wants to come up with accurate statistics regarding what the current fraud percentage is.
Another prominent Canadian with the name of Walker is Ann Walker (no relation to Nancy). Ann is in charge of the Public Affairs division of the Insurance Council of Canada, the ICPB. "We concentrate on home, auto and business insurance (P&C). One priority issue for ICPB is auto theft and auto theft for export. "With that in mind, Ann advises that the North American Export Committee was founded a few years ago in response to the increased numbers of stolen/unrecovered autos. "The unrecovered rate in Canada is scary high," she says, "so the NAEC was formed by and between the National Insurance Crime Bureau, the Royal Canadian Mounted Police, US Customs and the FBI. They got together to work on international solutions."
Vehicle identification numbers are collected from car rental agencies and the VINs are checked before cars are exported. The had news, similar to what occurs in the US, is that many of the stolen cars have not yet been entered into the system. A crook who rents a car from Hertz in Montreal might drive it straight into a container — hardly stopping to report it stolen before he attempts to ship it overseas.
The ICPB is part of the insurance council's communications plan , on
auto theft. Canada also has the CPIC, roughly the equivalent of the NCIC in the US.
On the positive side, the Vehicle Information Center of Canada has created auto theft deterrent standards for auto manufacturers and after market equipment manufacturers. Some of the things being implemented to thwart would-be fraudsters are (1) marking the vehicle and its components with identifying numbers, (2) mechanical barriers (e.g., steering wheel locks), (3) alarms, (4) vehicle tracking devices, (5) electronic immobilizers and (6) hidden kill switches.
One of the main barriers the Canadian fraud-fighting industry is facing is the privacy legislation (one more similarity between Canada and the US). "This is the big issue," says Ann Walker. "New legislation has been implemented in this country and there is active lobbying going on for the federal government to allow collection, use and disclosure of otherwise private personal information for the purpose of combating insurance fraud. The legislation has been passed, but they are working on the regulations within that legislation, so we still have hope."
On the province level, another good tool is the recently implemented "Branding" legislation. In Ontario and New Brunswick there are now provisions to keep track of a-car from birth to death. It's no longer a choice; it's mandated.
Ron Baldwin of Canada's Royal & Sun Alliance says there is nothing very different between the US and Canada in the realm of fraud. R & S has about a dozen offices throughout Canada handling personal and commercial lines property losses: burglary, theft, mysterious disappearance, small cargo, and auto fires. "The most difficult obstacle we have is that we're not lucky enough to have the benefit of arson immunity protection here in Canada," says Baldwin. "This affects handling. We are bound by our contract, bound by investigator licensing regulations and bound by rules of evidence. There can be a danger in perceived conflicts. We need to be very, clear on what is the intended object of our investigation. I like to call us "The Department of What Happened."
Investigating a loss sustained by an insured is more involved than investigating the loss as an outside governmental agency. "We have to go strictly by the rules. In the broad sense, there are statutory conditions of contract that mandate the insured's cooperation," says Baldwin. "We ask for account books and records to allow us to make a determination of quantum values. This lets us to determine if our policyholder was solvent or not … which could be tied to motive in, for instance, a large fire loss. In such a case, the loss could have been a contrived incident or claim and may not have been fortuitous. The insured may have done something — or not done something — to cause the accident to happen."
Canadian companies do not directly take the initiative to prosecute fraudsters. "We take the attitude that we are responsible corporate citizens," says Baldwin. "If we discover our insured or others have committed a crime, we report it to the police. Some individuals have been prosecuted. In one case last year, authorities obtained a conviction in a Toronto area criminal court for a four million dollar house fire. The guilty party was sentenced to 30 months plus a restitution order of $575,000. He personally realized no money from the claim, but we were bound by a mortgage clause agreement to pay a portion of the loss."
The case involved a Mrs: Insured as the named insured on the contract of insurance. Not surprisingly, she claimed that she did not know what her husband was doing when he arranged for the fire to happen.
To push forward with a prosecution, the investigator must go to the local police or provincial or federal police. While there are provincial fraud
bureaus, they serve the purpose of assisting consumers in their complaints against insurance companies and do not deal with fraud committed by the policyholder and against the insurer. So it is up to the police to investigate and make a determination.
Canadian law enforcement agencies share another problem with their counterparts in the US with regard to investigating insurance fraud. When it comes to designating resources to prosecuting fraudsters, given so many murderers, rapists and violent offenders on the loose, how many investigators and man hours can they justifiably allocate to white collar crime? Additionally, the public's perception of insurance companies does not allow them to be seen as victims.
Is there a lack of interest when it comes to fighting Canadian insurance fraud? "No," says Baldwin, "it's a lack of resources and a lack of ability. SIUs are being cut back. Zurich recently cut back 75 percent of its SIU." Is a company legally able to do that in Canada? Yes, in fact they can. In Canada there are no mandated SIUs; bringing up a unit is a solely a matter of choice and of good fiscal responsibility.
Tweety Hooter of Astronaut Mutual (another substitution name and company name) recalls a meeting of the Canadian Life and Health Insurance Association (CLHIA) a number of years ago at which participants were asked if their own companies were taking any action to counteract insurance fraud. "No hands were raised," she said, "but more recently companies are beginning to make a concerted effort to avoid paying fraudulent claims. "We are now actively pursuing fraud cases," she says. "In most of the cases we see, our action is simply to, deny the claim. These claims generally involve a foreign aspect; for instance, it might be a hospitalization claim from Nigeria, Congo Republic, Central America or Mexico. The great majority of our claims are valid, but we pay special attention to those few files where further investigation is called for." And how does a Canadian insurer investigate a claim for hospitalization in El Salvador? "We contact the doctors and hospitals, and if the information we get isn't sufficient or does not add up, we'll deny the claim," answers Hooter. What country currently seems to be giving Astronaut Mutual the biggest problems?. "India," says Hooter. And what kind of claims are they? "Accidental death or medical," she tweets.
Mark Turkiewicz of PennCorp Life says the CLHIA has recently been taking a more proactive approach to fraud issues. "We're in the individual life and health business, predominantly disability insurance, and we see a lot of economic related malingering cases."
Ontario presents a special sort of problem according to Turkeiwicz. "Ontario is the biggest multi-cultural stew in the world. A lot of our business takes us into cross cultures."
CLHIA is the industry representative for life and health insurance in Canada and fraud has become an item for committee and sub-committee discussion. Among the conversations, there has been some talk of a special database or a centralized investigative body that would allow the sharing of information across industry in the interest of fighting fraud. The talks are still in preliminary stages.
CLIHA recently announced to its members that it learned of the existence of a new anti-fraud website. The website www.globalinsurancefraud.com is the work of Global Insurance Fraud Vancouver. This site is a web-based service dedicated to the fight against insurance fraud. It was established to provide awareness, education and resources to those professionals in the insurance and related industries. The current public site offers information and links. It also has a "Whistleblower" tip line. The SIU model, currently under construction, is designed to act as a resource to insurance investigators. It will allow them to communicate, share and learn in a password-protected secure environment.
The investigative body of CLHIA is in the early stages of organization and may consider the possibility of hooking up with ICPB. The ability to cross information between the P&C companies and the LA&H companies would be a definite plus in the long term-fight against fraud.
Turkiewicz explained that there are existing Departments of Insurance in most of the Canadian provinces. "In the old days, when a consumer had a complaint, he could call up and discuss the case with a regulator and get the matter dealt with. Now, in many provinces, they demand copies of the entire file and detailed explanations from both the company and the policyholder."
These DOIs predominantly consist of consumer advocates and deal with problems from a consumer advocate point of view, "But now they are taking their duties to newer levels and dealing with compliance issues across the country," says Turkiewicz. "We expect more market contact audits and required filings in order to certify that we have procedures in place and are complying. The current flavor in Canada is a lot of consumer advocacy. If we get our pooled data source, the next step will be to make sure that body is also a policing body capable of following up . on these files and, if warranted, pursuing charges."
© 2000 John Cooke Fraud Report