Copyright held by The John Cooke Fraud Report. Reprint rights are granted with attribution to The John Cooke Fraud Report with a link to this website.
The saga began on March 27, 2009, when a Tacoma, Washington, man, Yevgeniy Samsonov, was involved in a minor traffic accident. The driver behind him at a traffic light slipped her foot off of the brake and hit him. Damage was minor, however Pemco paid an

estimated $3,500 to cover chiropractic treatment for soft tissue injuries allegedly suffered by Samsonov. Two years later Samsonov wanted more. He asked for $20,000 to cover the loss of Tom, his pet cat that supposedly died in the collision. He went so far as to submit photos of Tom, a fluffy, white, blue-eyed feline. A real heart-string tugger, right?
Initially, it worked. Pemco sent a $50 payment, but that was not enough. Nope, Tom was a very special cat, a thousand dollar cat, one that had been "like a son" to Samsonov.


An astute Pemco investigator did some fancy paw work on google images and noticed a startling similarity between the two photos the grieving Sansonov supplied of Tom … and two photos from the Internet. In fact, the two photos, while similar, were of two different cats that belonged to two different owners, neither of them the claimant. Tom, claimed the insurer, never existed, much less had he met the end of his ninth life as a result of that minor collision. They canceled the $50 check and turned the case over to the insurance fraud unit. Good move. And one step closer to the fraud litter box for Samsonov.
Authorities concurred with Pemco, charging Samsonov with first-degree attempted theft and feliny– oops, felony — insurance fraud, charges that could translate to a year behind bars.
Now, to anyone involved in the claims process, the investigation process or the prosecution process, here are some simple instructions from Cowboy Don, our tekkie volunteer from FightFraudAmerica.com who has never chased a cat for us before, but has chased plenty of online romance scammers.
Google Image Searches
Pictures on internet sites can be easily searched for possible matches on the web by adding and using the extension on Google Chrome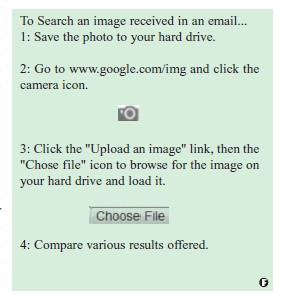 or Fire-fox, and – every member of Facebook, Match.com, etc. should probably check any new contact's photos to see where else they may be. Safe Search must be disabled on the browser as many conservative images are nonetheless acquired from porn sites. Also works for objects, scenes, and more.