Copyright held by The John Cooke Fraud Report. Reprint rights are granted with attribution to The John Cooke Fraud Report with a link to this website.
MISSOURI TRAGEDY
In a family's cooperative plot that went horribly wrong, 15-year-old Zachariah Kemper burned to death because he could not escape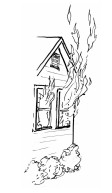 the flames from his basement bedroom. At the time, it was initially believed that the father ignited a trash can in the utility room next to his son's bedroom using hair spray. The plan was to collect hundred$ of thousand$ on a homeowner's policy. Even though a fire extinguisher was only a few feet away, Zachariah never made it out of his bed; however, the adults upstairs were able to escape in time.
But that's only a small part of a long-running story. If Zachariah were alive to see his now 54-year-old wheelchair bound father being sentenced, he'd be 27 years old. The fire that killed him occurred in November of 2001. Courtrooms are not new to this former husband/ wife team, who divorced in 2002 soon after the first round of charges were filed.
Sarah Kay Bryant's 2002 state trial on charges of murder and arson hit a snag when a mistrial was declared after St. Louis County Judge David Lee Vincent III, acting on a request from Bryant's attorney, allowed jurors to see a video of Bryant's polygraph examination, wherein she repeatedly denied any involvement in the fire. The judge then changed his mind because lie detector tests aren't usually admitted in court. A mistrial was declared, and the Missouri Supreme Court later ruled that because the mistrial had been entered over the objection of Bryant's attorney, she could not be re-tried in the State system.
Bumped up to the Federal level, the new case was not filed until almost ten years later. Federal charges were pressed and Kemper and Bryant were indicted. They were charged with setting multiple fires for profit. Kemper, who claims he does not have long to live due to a heart attack and stroke in 2008 and ongoing tremors and seizures, says he just wants to set the record straight. He's pled guilty to Federal felony charges of aiding and abetting the use of fire in mail fraud and faces 10 years to life in prison. He is scheduled to be sentenced in October. Sarah has entered a not-guilty plea to the Federal charges, so a jury is likely to decide the case.
Kemper's guilty plea documents tell quite a story. They trace a series of fires to a 1996 discovery by Betty Bryant (Sarah's mother) that her daughter and son-in-law had been tapping into her bank and trust accounts by impersonating her on the phone and forging her signature. According to Kemper, Betty had initially helped them out financially; but that arrangement was going to end and she planned to cut them out of her will. On Jan. 1, 1997, in "retaliation," Sarah Bryant set a fire in the rear of her mother's house in Florissant, causing Betty to suffer smoke inhalation.
The next day, Kemper claims, the couple told Betty Bryand how to submit an insurance claim for the house. Upon receipt of the proceeds from that claim, Betty used the money to buy a house in Alton and she again started to financially assist her daughter and son-in-law.
In early 1999, after Betty had been injured and was in a rehabilitation center, the daughter and son-in-law talked her into listing her house for sale. When no offers came in, Kemper now claims that Sarah simply set fire to the home on July 20, 1999. According to his plea information, he and Sarah again helped Betty Bryant file an insurance claim for that loss and she used the proceeds to buy a house in Florissant in July 2000.
Fire is alleged to have become a way of life for the couple when they hit financial roadblocks. It didn't take long. Needing money, the two planned a fire for November 15, 2001, but their plans were interrupted. So November 16 was the fall-back date for a fire that, according to court records, was supposed to look like an "accident due to careless smoking and cleaning habits."
Sarah Bryant is alleged to have started the fatal fire early the next morning.
Time will tell the rest of the story, but time will not bring back Zachariah Kemper.